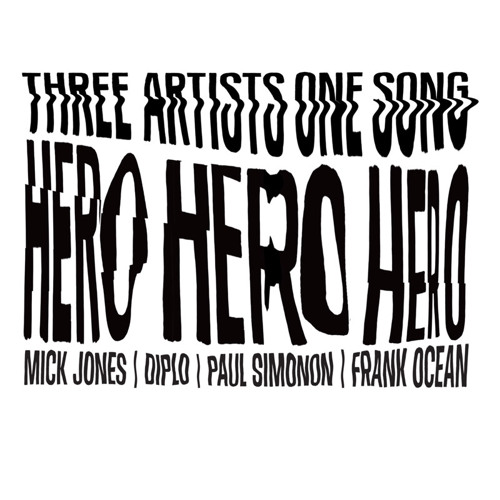 It appears that the creative people over at Converse have a knack for bringing the right musical minds together. The latest pairing for their "There Artists, One Song" series is a testament to that with Mick Jones and Paul Simonon of The Clash linking up with producer Diplo as well as R&B fan-favorite Frank Ocean. The collaboration between these artists who represent multiple genre's results in a great final product. Featuring prominent vocals from Frank Ocean and well put together production, "Hero" is a nice treat that all music fans can appreciate.
The highlight of "Hero" for us would be the performance of Frank Ocean, who has been relatively quiet recently as he continues to work on his next highly anticipated album. Hearing his prominent vocals mesh with the instrumentation behind the track was very fitting and Diplo spoke on the background of "Hero" in a press release: 
The Clash were always teachers to me, even before I shared a studio with Paul and Mick. Their musical anarchy and constant attitude to disregard rules and forge their own path was inspirational to me. They meant death to genres, music and message above everything. Frank lives by the same creed in being married to his vision and seeing it through at any cost. We had to challenge each other to make something that we hope no one could expect and Converse valued everyone's artistic freedom to let us shine throughout the past few months to make this thing happen.
Listen to "Hero" below and let us know what you think!